Online store audit
We are offering high quality and detailed audits of online stores based on 1C-Bitrix.
Our specialists will thoroughly study your project using special tools, technologies and their own extensive experience in e-commerce.
The audit will result in a detailed report with a list of problems detected, rough estimation of possible solutions and identification of priorities.
You will find a checklist of technical audit at the bottom of this page. You can use it to analyze your website on your own. If you have any questions left afterwards, we are always ready to help.
It is extremely important to conduct regular reviews of online store operation, identify errors, and further develop the project taking into account the data obtained.
When do you need an audit?
Low conversion
Website running slow, its interfaces are awkward and navigation is complicated — all of these stand in the way of an online store becoming a success. After an audit, you will have clear recommendations on how to boost conversion and increase the average check.
Frequent failures, high maintenance costs
The ever-growing rate of minor failures is an indication of global problems, which one day will have serious consequences. Maintenance costs will go up with time. An audit will help to identify and contain both minor and major systemic issues of the website.
It is unclear which way to go to develop your online store
After the audit, you will take a fresh look on your website and be able to see the points of growth. The audit report will serve you as a comprehensive guide to further development of your online store: the only thing you will need to do next is to implement the recommendations given in it.
You have created a new website
The earlier you identify the website issues, the easier and cheaper it will be to resolve them. In addition, an audit can help you assess the quality of work done by your contractor and obtain solid arguments to fix the problem on the warranty.
The purpose of an audit is to identify project issues and risks and recommend corrective actions. You can implement the recommendations on your own or hire specialists.
What issues can an audit identify?
Each project we are working with is unique. However, our long-lasting experience enabled us to draw a list of typical issues.
For example: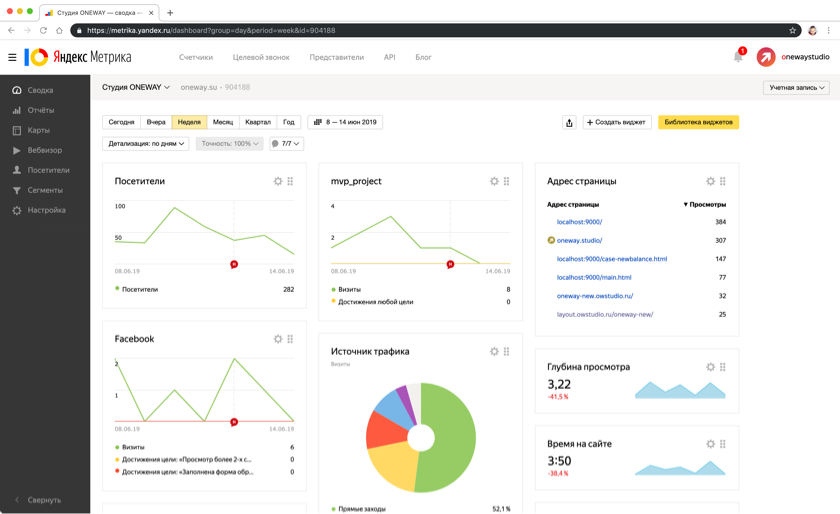 JavaScript code
JavaScript code is not optimized. This causes errors in running scripts and makes project support difficult and expensive.
Image optimization
Images downloaded to smartphones and tablets are as large as those for computers. This reduces the website loading speed at mobile devices.
Semantic markup
Semantic markup and search engine optimization (SEO) are implemented incorrectly or totally absent. This causes incorrect indexing of the website by search engines and low ranking of the website in search results.
---
Sometimes, errors can be uncommon and hard to fix. For example, Bitrix core customization, unencrypted storage of user data, backdoors and other unpleasant surprises left by previous developers.
How do we do it?
During an audit, our specialists are studying and testing the project for two weeks. This work results in a report containing a structured list of problems found.
During a technical audit, we analyze performance, security and structure of the project, workflow management, front-end optimization, server environment configuration; we carry out website profiling with and without caching. The entire process takes up approximately two weeks.
A usability audit includes checking icons and buttons, styles, cross-platform capabilities, ease of navigation, consistency of interfaces, cross-browser capabilities and adaptability. The estimated completion period is two weeks.
Feedback
We decided to introduce a number of changes after the usability audit. The results were not long in coming: the website conversion went up three times on mobile devices alone!"
Incity
We approached Oneway Studio with a request to identify and eliminate the cause of slow website loading and define the points of growth. After their recommendations were implemented, we managed to increase the loading speed at least fivefold".
Vans
Our goal is to make crocs.ru more user-friendly and bring it more in line with the global website. In the report, we found all the recommendations we expected to find. We especially liked the videos describing the problems — it all became very clear".
Crocs
Technical audit
2 weeks or more
Get a comprehensive list of recommendations to optimize your code, improve website security and reliability.
---
User testing of the website for technical errors;
Front-end audit;
Code review;
Review of the website internal logic compliance with 1C-Bitrix development standards;
Database settings check;
Review of server environment and server software configuration.
Report preparation.
Usability audit
2 weeks or more
Learn how much user-friendly your website is, and what prevents visitors from turning into buyers.
---
Analysis of KPIs provided by marketing tools, such as Yandex.Metrica and Google Analytics, their comparison with the website solutions;
Cross-browser capability check;
Determination and testing of target scenarios;
Identification of the website performance bottlenecks causing users to drop out;
Review of the most successful solutions implemented in the projects of other brands in your sector;
Report preparation.
Technical audit checklist
We are happy to share the actual checklist our specialists use to conduct technical audit of an online store. Despite being of general nature, it nevertheless reflects all the basic checkpoints.
Leave your contact details and you will get an automatic letter with the checklist file attached.